Regular vehicle maintenance is the number one way — besides safe driving — to keep your vehicle operating safely and smoothly for years to come. If you are not a certified mechanic yourself, we recommend leaving this routine maintenance to a professional. Typically, you can choose between a garage and a dealership like AM Ford Sales for your service. Here's why we recommend the latter:
Certified Technicians
The technicians who work at AM Ford Sales have the same mechanic backgrounds as those at regular garages, but they have also received specific and extensive training on Ford vehicles. That makes them better equipped to perform maintenance on all Ford models. They are more likely than other mechanics to spot potential problems and fix them before they turn into larger issues, and they understand your vehicle's needs more thoroughly.
Genuine Parts
In addition, only Ford dealerships like AM Ford Sales have access to genuine Ford parts. These parts are crucial to ensuring accurate repair and maintenance work for your vehicle. Other mechanics will use generic parts that might not fit perfectly and could affect performance, efficiency and even safety.
Customer Service
AM Ford Sales prides ourselves on our customer service. Because dealerships are more than just service bays — we are also a sales organization — and because dealerships represent a much larger company (like Ford), we take customer service very seriously.
Warranties and Recalls
If during routine maintenance, we find an issue with a component that is covered by your warranty, we can fix it for free. Other mechanics do not honour manufacturer warranties. Further, our system will tell us automatically if your Ford vehicle has any open recalls on it, and we can perform the fix for free. Mechanics at a local garage may not be aware of open recalls and are not authorized to provide repairs if there are.

Trust the professionals at AM Ford Sales for all your car's maintenance needs.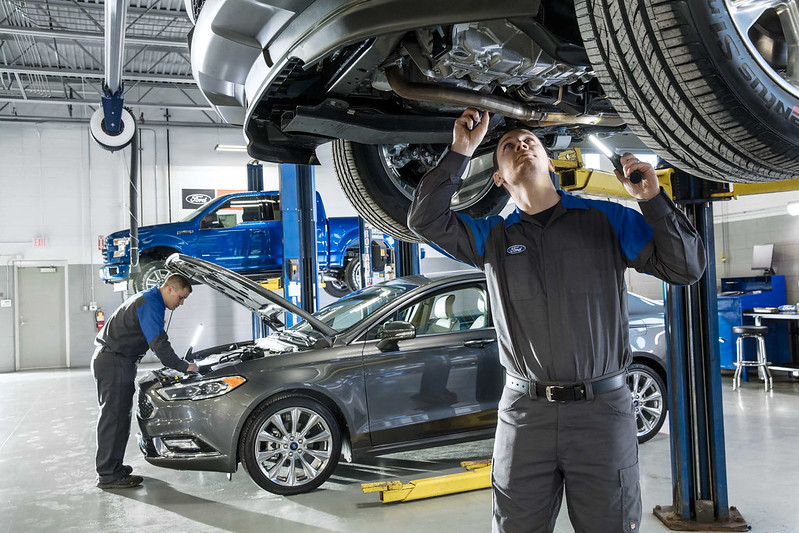 2795 Highway Drive
Trail
BC
V1R2T1
Hours
Monday

8:00am - 5:30pm

Tuesday

8:00am - 5:30pm

Wednesday

8:00am - 5:30pm

Thursday

8:00am - 5:30pm

Friday

8:00am - 5:30pm

Saturday

8:00am - 5:00pm

Sunday

Closed